JoTrack vehicle Tracking System is fully integrated software solution that allows you to monitor your vehicles (Locate, Track, Control and Manage) remotely and conveniently.
JoTrack System is a web based real time tracking system, that is designed to give full control to the users on their Vehicles, view and export reports with full features that could be required in any tracking system. Noting that JoTrack can be fully managed by ؟
any user with minimal training.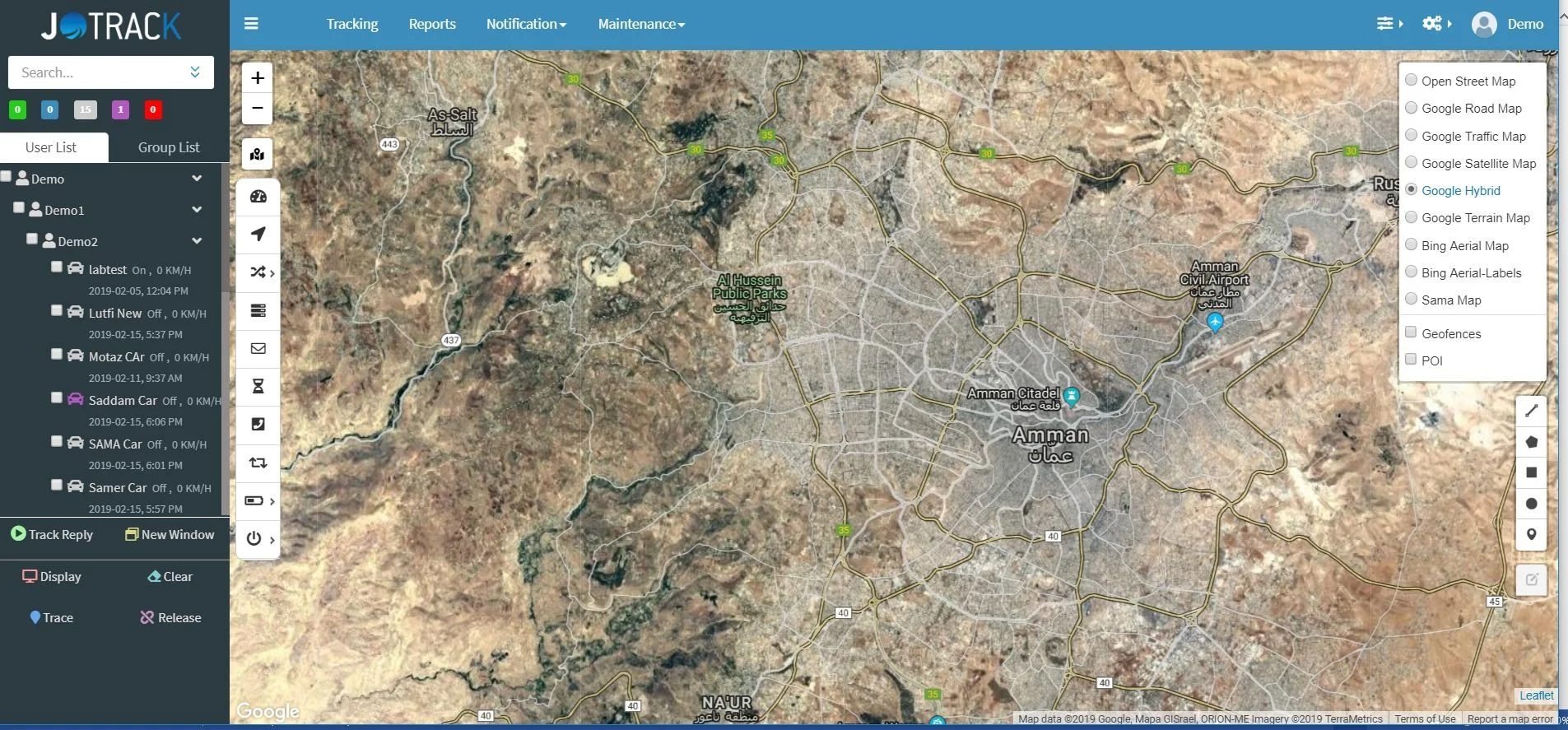 JoTrack consists of the following components:
Maps.
Numerous map options are available for the user and all are up to-date (2018).
Open street map.
SAMA map.
Google map (Google Street map.
Google road map.
Google traffic map.
Google Satellite map, and Google hybrid map).
Bing (Bing aerial map, and Bing aerial labels).
2. Tracking Module.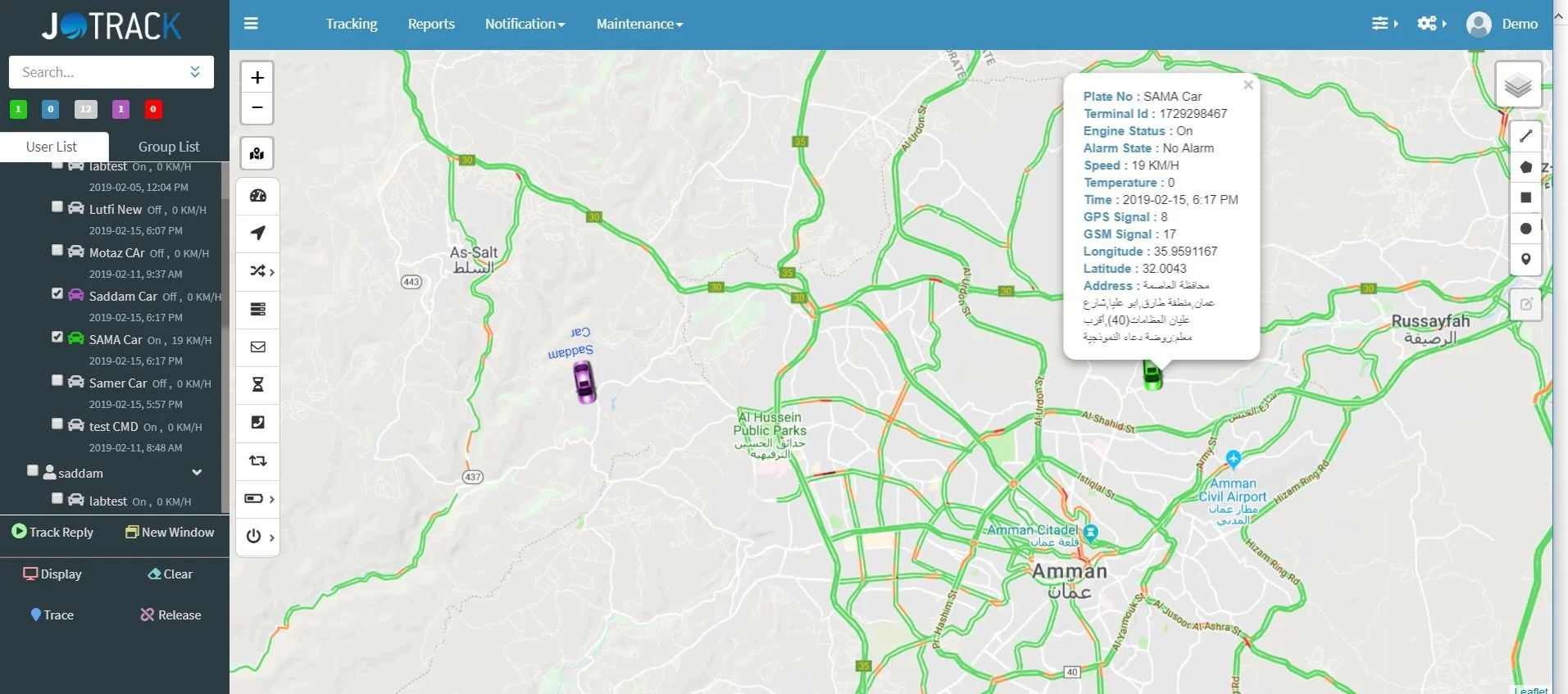 ule is where all the action viewed in a real time synchronized between all the users, . JoTrack enables the user to
locate vehicles, monitor many vehicles live on the same screen, trace multiple vehicles each on a separate window (map splitting
feature), and obtain vehicles' historical data using the track replay feature.The historical data obtained from the track replay feature is divided into trips, where the trip details (Date, start time, end time, driving duration, mileage, start address, and end address).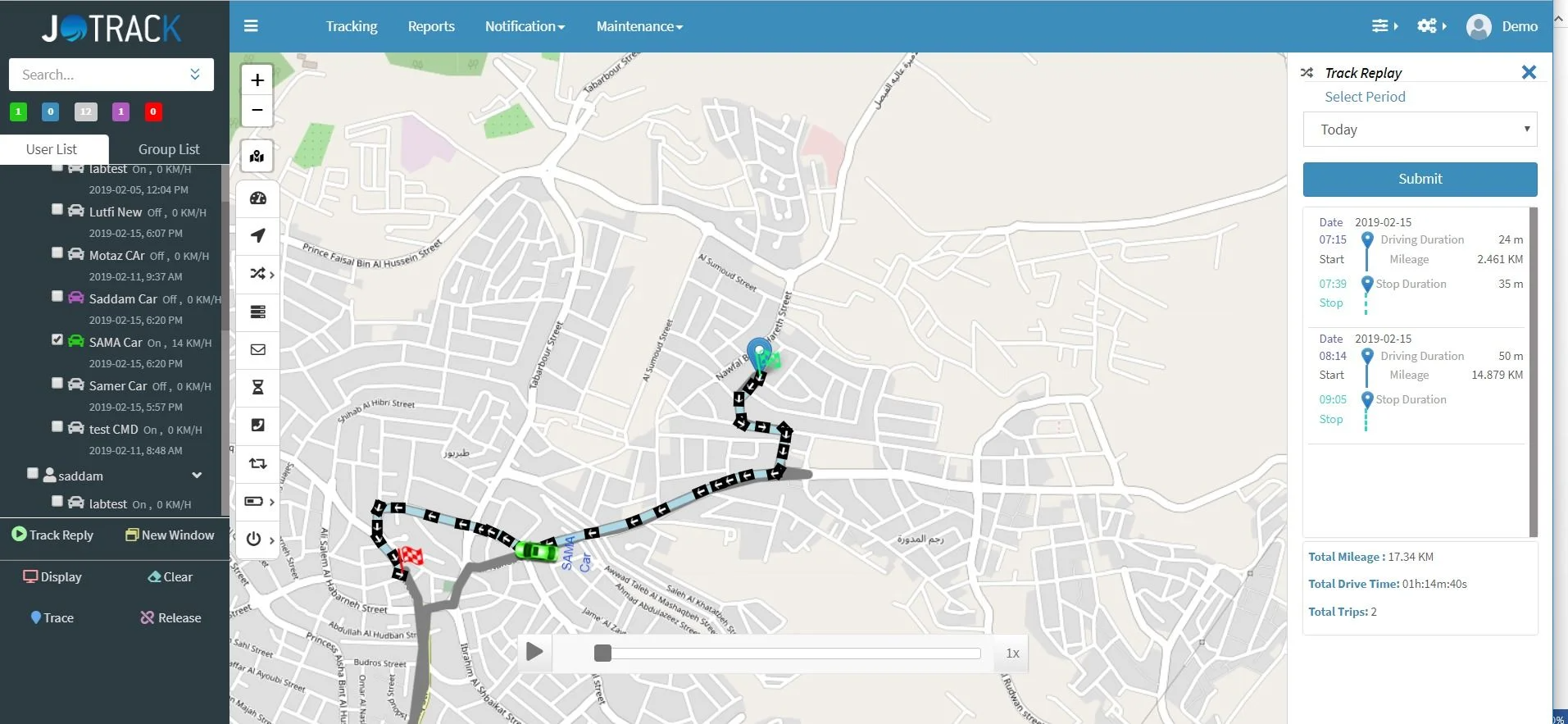 3. Controlling Module.
JoTrack enables the user to customize their own vie. Hence, we developed a super-high performance map engine that displays thousands of assets in a single view.
User can perform the following:
a) Add, Edit, and Delete Landmarks.
b) Add, Edit, and Delete Geo-fences.
c) Categorize landmarks.
5. Maintenance Module.
JoTrack is developed with an effective preventive maintenance module that enables the user to build comprehensive maintenance plans where the administrator is notified prior to the maintenance job due date, to ensure that the fleet is managed efficiently. Preventive maintenance plans can be tracked by the following:
Date, Miles/Kilometers, and Hours of operation.
State inspections, campaigns, and licensing information and even warranty expiration.
An interval of time or on a specific Date in each cycle (i.e. 15th of each month).
Maintenance plans can be managed using the below categories:
Mileage.
Selected date (Recurrence).
Selected Date (Once).
Selected Day of month.
Operation Hours.
Two mixed from the above.
5. Notifications Module.
Notifications Module is an advanced tool that able the system users to standardize the driver's habits by controlling all the conditions that the vehicle can go through like over speeding, and geo-fencing.
Notification Module is like the Maintenance prevention module, super easy to use, where the user create a template and distribute it as a generic plan or specific plan for separated groups. User can create the Notification plan based on data collected from the vehicles with over 10 variable including but not limited to:
Harsh Break and Harsh Acceleration., Exceeding service or fatigue hours , Geo-Fence in/Out and any other specified event in parallel , Over Speeding ,Not wearing seat belt , Free Wheeling , Cutting power supply and tampering , Idling , Swerving , Over speeding , as per regulations , Engine status for period of time configured by the user.
JoTrack Mobile Application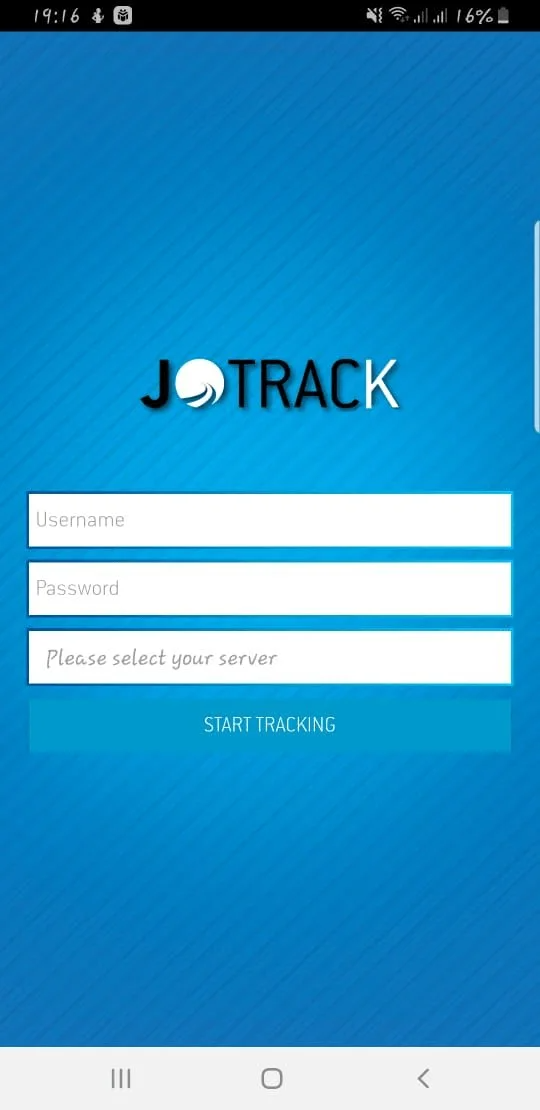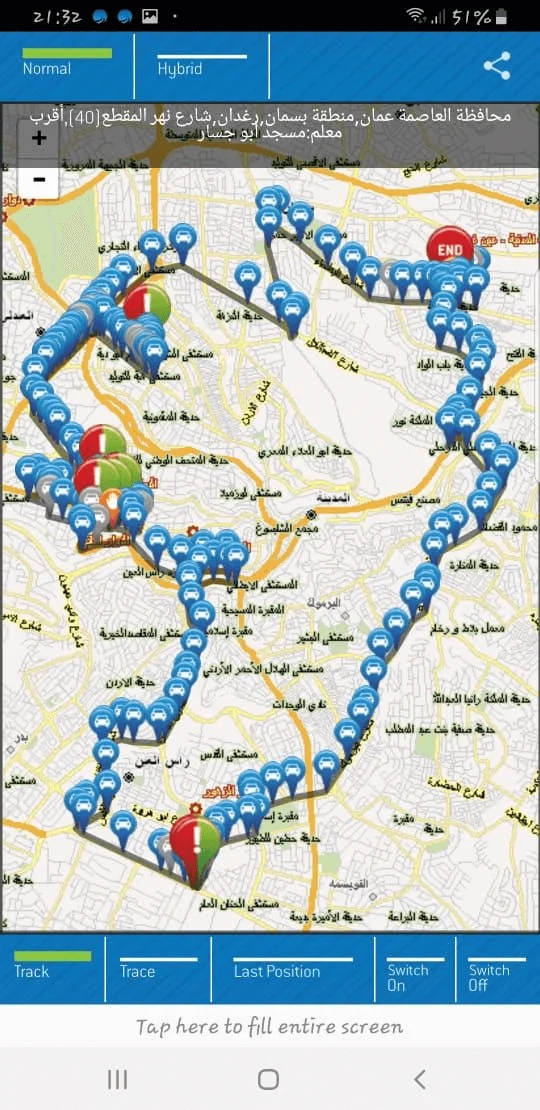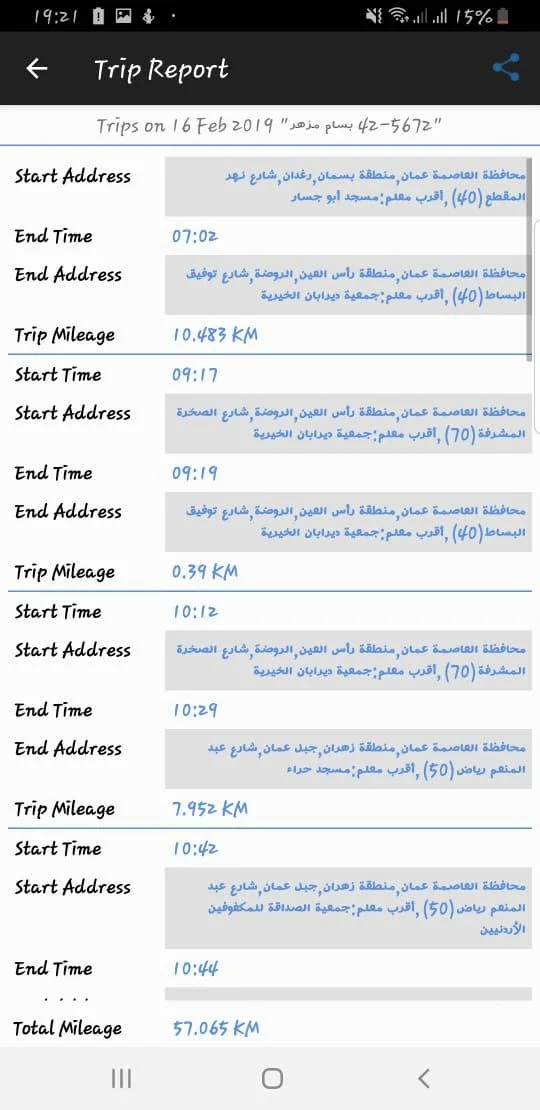 JoTrack has a native mobile application available for both IOS and Android where the mobile user would be able to Receive push notifications for any preset event.
You can download JoTrack using the below links:
Google Play: JoTrack Android
Apple Store: JoTrack IOS